Back
Finding magic in the open water
July 27, 2021
Orca safety ambassador, and internationally recognized ocean advocacy expert, Bruckner Chase, talks to us about important considerations when open water swimming, whether for competition or discovering new swim adventures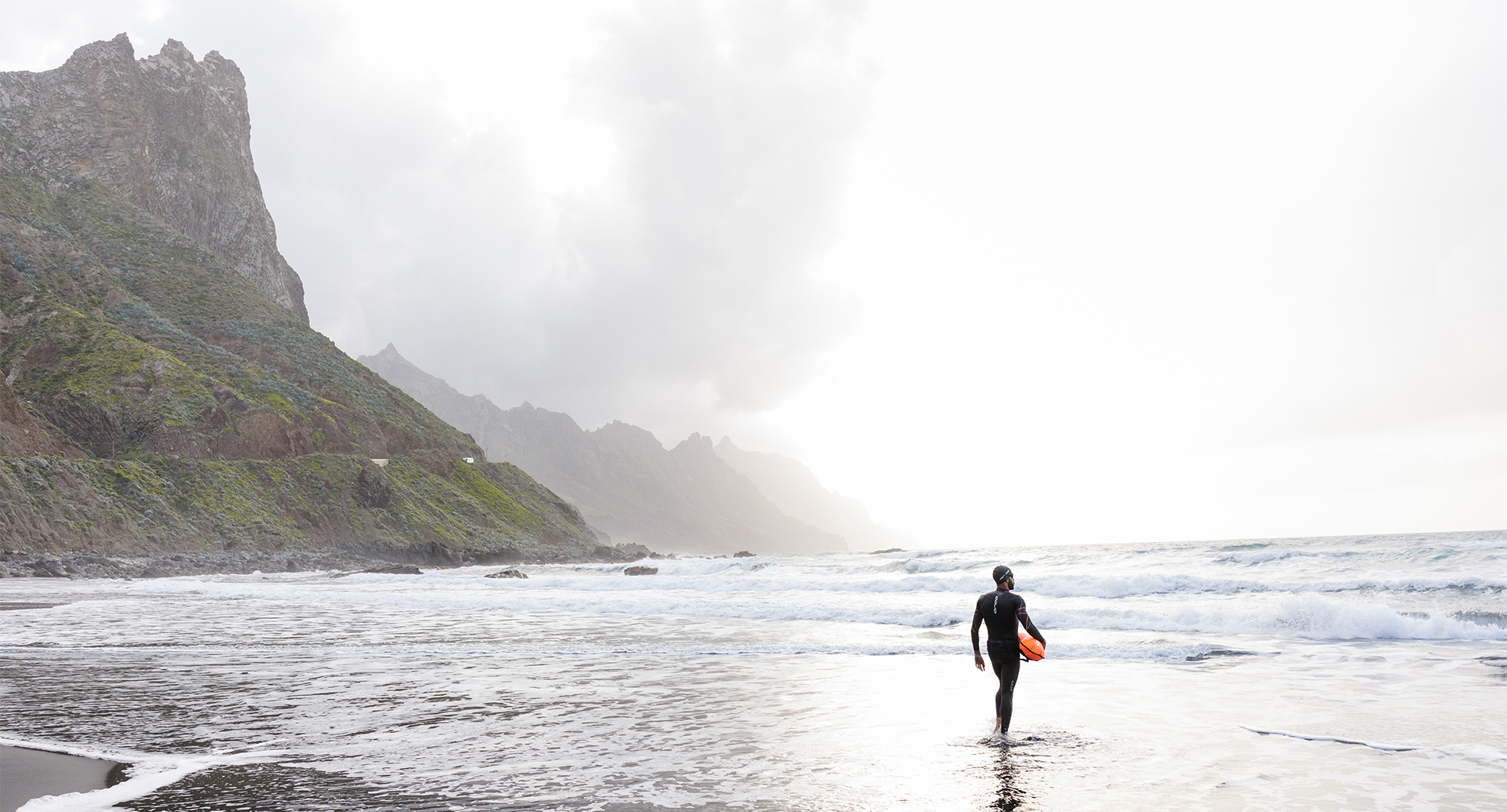 Orca safety ambassador, and internationally recognized ocean advocacy expert, Bruckner Chase, talks to us about important considerations when open water swimming, whether for competition or discovering new swim adventures
BRUCKNER CHASE - Ocean advocacy expert
American anthropologist, philosopher, and educator Loren Eiseley said it best, "if there is magic on this planet it is contained in water."
Whether your quest as a swimmer is to explore new shores, master an open water challenge or reach a new level of performance, there are some key considerations in turning a potentially bad experience into a magical one. For an open water athlete or adventurer, the key to performance and safety is recognizing and respecting the conditions you may face. Protecting yourself and others requires a complete understanding of ocean and beach conditions, and recognizing the possible dangers from ever-changing weather, water and tides. As you pack your swim bag here are some basics to enhance performance and safety before you leave the shoreline:
1) Swimming Approved - Even waters that appear perfect for a swim may contain dangers in the way of strong currents, submerged hazards, massive waves or human powered threats such as boats, and surfers. Pay attention to posted information from flags or signs about whether an area is approved for swimming AND what could be encountered. Recognize what other activities might be taking place where you plan to swim. So often the greatest dangers are beyond what is easily visible.
2) Swimming Protected - Always make your first-choice guarded beaches. Lifeguards may guide you away from areas you thought "looked" perfect and are the best resource to gain information about the local waters. Take these experts' advice on the place, time and direction to swim, or not swim. Beyond professional lifeguards, a designated observer who stays on shore with a phone and safety equipment like a floatation device can be a lifesaving back-up should something go wrong. This person on land can ensure that everyone who enters the water, also comes out.
3) Open Water Info - Arrive knowing and understanding the local weather, surf and tide forecasts while recognizing that coastal conditions can change rapidly. Weather and water can be very location specific from dense fog to submerged obstructions that can be deadly at specific times of the day. Once you arrive with your gear from a safe, dry place spend time studying the conditions you can see while also looking for posted signs about hidden dangers. Winds can switch in minutes and those changes combined with strong tidal currents can make an easy swim out an impossible swim back. If you don't know the local waters swim with someone who does. Always avoid swimming in conditions or locations that are beyond your level of experience and comfort unless there is professional, experienced help available if something goes wrong.
4) Open Water Wisdom – Dynamic Open Water is impacted by winds, currents and tides that will have a powerful impact on any swimmer unlike anything experienced in a pool. Swimming into winds of even 10 miles per hour can mean choppy conditions that hamper breathing and sighting. Various types of currents can move at over 3 miles per hour, the equivalent of swimming 1:15 per 100 meters, just to stay in place. As for the waist high waves that look small while standing on shore, they can hit you like the weight of a car rolling downhill if you are not experienced in being able to duck under or slice through them. Take time to learn from experienced ocean coaches or swimmers how to navigate the conditions you expect to encounter.
5) Swim Plans - Before you dip your toes in the water be sure everyone in the group and anyone watching on land know the swim plan which should include direction, duration and safe exit spots. One simple tip often over looked at the water's edge is to take a moment and turn around. All too often swimmers forget to note the key features and landmarks where they entered the water. Factor in the duration of the swim and how things like tides may change to further expose or hide dangers, or re-direct your swim course. For a friend or family member staying on land, or back home, be sure share the name and exact location of where you are swimming and when you plan to return.
Just as we all have our favorite toys, suits and gear for our pool workouts, when we head outdoors there are also some key items to have in your open water swim bag:
• Brightly colored swim cap
• Swim Buoy or personal floatation device to keep you safe and allow you to securely assist others in trouble
• Whistle – There is no better way to signal for help, or alert a boater to your presence in the water than the same tool worn around the neck of every lifeguard
• An appropriate wetsuit or swimsuit for the water conditions and your swim level
• Multiple pairs of goggles with a wider field of vision and a tint appropriate for various lighting conditions
• Warm clothes and food - Even a short swim in 60-degree water can leave an experienced swimmer shivering on shore. Be prepared to warm up with proper fuel and post swim dry fleece apparel can an open water swimmer's best friend.
Now you are ready to take on the challenge. Learn to see the ocean and open water in same the way so many ocean lifeguards, surfers, paddlers and swimmers do for the magic it offers and dangers it may hide. Respect the ocean, learn about what you see and DIVE IN!
ABOUT BRUCKNER CHASE
Founder and CEO of BC Ocean Positive, and Professional Ocean Lifeguard Bruckner Chase is an internationally recognized ocean advocate and professional waterman whose athletic accomplishments and adventures include some of the most challenging environments and harshest conditions on land and by sea. His athletic pursuits and innovative, evidence-based initiatives span from American Samoa, to Poland, to the Jersey Shore and provide opportunities to empower, as well as positively impact individual and community behavior towards our shared aquatic environments. He currently works with NOAA National Weather Service as their coastal safety, science and conservation advisor while also working on groundbreaking, inclusive surf lifesaving sports programs for para-athletes. His current project with NOAA, "Wave Safe with Bruckner Chase" is a multimedia campaign that teaches the philosophy, mindset and actions that can protect any person, on any shore.
He loves working in Australia and American Samoa and is always eager to get back to these places he considers "second homes". Join Bruckner in protecting our oceans, and their inhabitants, and learn more at bcoceanpositive.org.