Back
5 tips on choosing the perfect wetsuit
April 26, 2021
Every athlete is an individual and in open water swimming it is no different. The needs of one swimmer can be impediments or obstacles to another.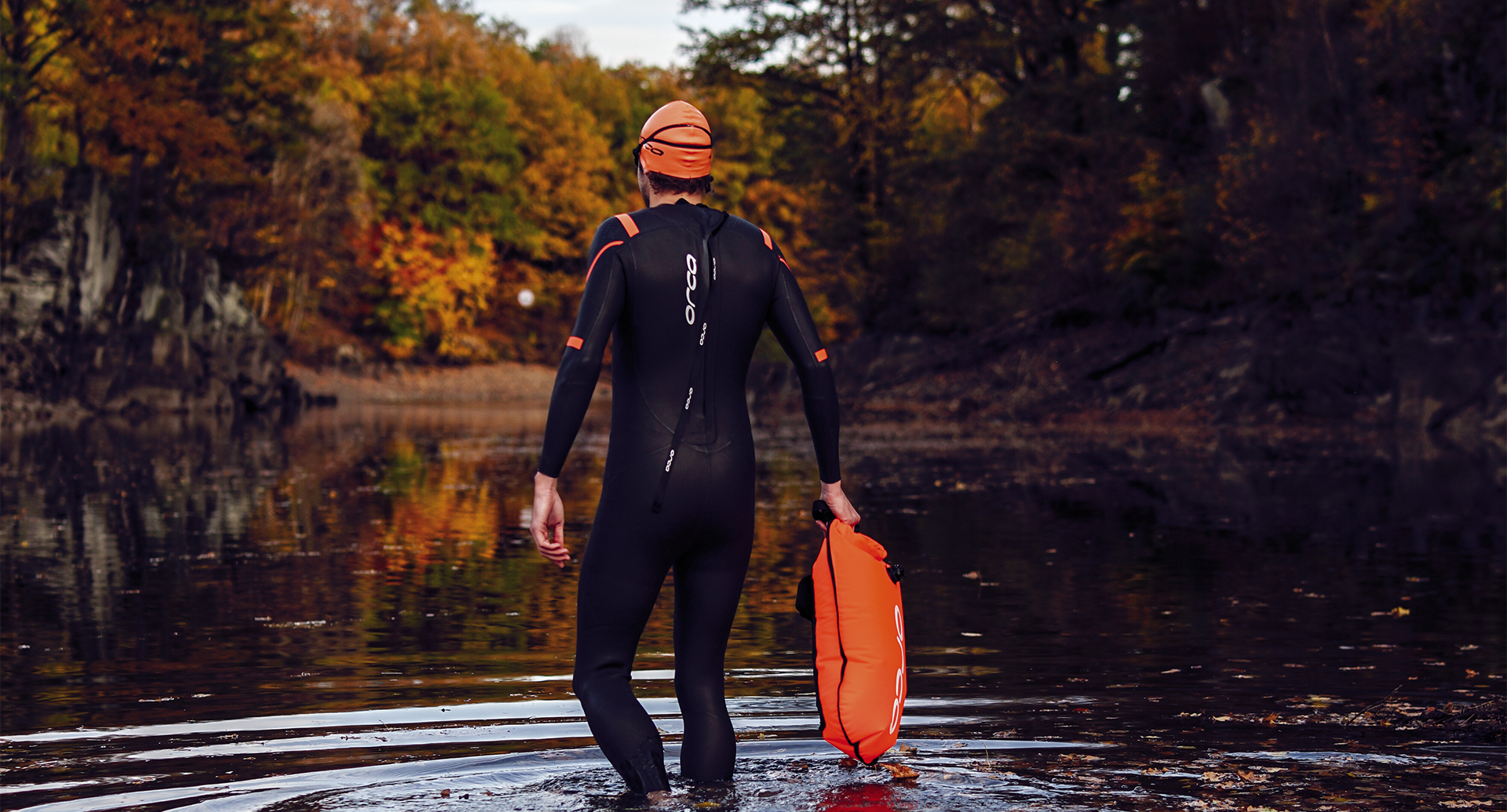 Every athlete is an individual and in open water swimming it is no different. The needs of one swimmer can be impediments or obstacles to another. This is why it is important to know what equipment you need, especially when it comes to your wetsuit. The wrong choice can negatively affect your technique and your performance in the water.
In order to choose your perfect wetsuit, you have to examine various factors; above all, you have to know yourself well as a swimmer and athlete. Knowing what your own needs are, as well as your preferences, strengths or shortcomings, is essential when choosing between models.
We will propose five factors that should be taken into account when you choose your wetsuit: your level and swimming technique, the performance of the suit, your goals as an athlete, sizing and finally, pricing.
YOUR SWIMMING LEVEL, A DECIDING FACTOR IN WETSUIT SELECTION
Knowing your swimming level is the first point you have to consider when you think about acquiring a new wetsuit. Obviously, someone who is newly starting out in open water will not have the same needs as an experienced swimmer with several kilometers under their belt.
If you are just starting out, your technique is probably not completely refined yet. You will need extra buoyancy, especially in the leg area, to raise your hips and help correctly position your entire body, achieving the least possible hydrodynamic restriction. In this case, wetsuits like the Predator or the 3.8 are recommended and will be best suited to your needs.
On the other hand, if you are an experienced swimmer and technique is your strength, you will be looking for maximum flexibility. You might consider a wetsuit like the Alpha that adapts to your body like a second skin, allowing you to enjoy every swim stroke.
FEATURES FITTED TO YOUR NEEDS
Once you have a good understanding of your swimming level, you can then evaluate the performance of each wetsuit model and make a decision based on your needs. You should be examining the following aspects:
● Flexibility: more flexibility means more freedom of movement.
● Buoyancy: as discussed before, a wetsuit with more or less buoyancy can help or harm you depending on your swimming technique.
● Hydrodynamics: for swimmers with a less refined technique, added buoyancy will help you correct your posture, achieving a more hydrodynamic position.
● Thermal Insulation: If you love swimming in cold water, or if you like to swim in the ocean even during the winter months, the amount of thermal insulation that a wetsuit can provide will be a key factor to consider. The new RS1 Thermal for example, is the wetsuit that offers the most thermal protection in the entire Orca range. It has an inner lining that was specially developed in order to maximize heat retention in open water swimming, which will allow you to swim for longer at lower temperatures.
● Visibility: an important point to consider if you are used to long training sessions in open water. In addition to the buoy as a basic equipment item, a wetsuit that makes you visible to boats, surfers and other swimmers, will provide you with added safety, allowing you to be located at all times. This is the case for wetsuits such as the Open Water Core Hi-Vis or the Open Water SW.
WHAT ARE YOUR GOALS AS A SWIMMER?
Another factor to consider when choosing your wetsuit is your goals as an athlete. Do you want a suit for recreational swimming? For competitions? For participation in a triathlon or an Ironman?
So, depending on what your motivations and goals are, you will choose a wetsuit that fits your needs as a swimmer from the triathlon range, the open water range or even the swimrun range.
CHOOSING THE RIGHT SIZE
Once you have chosen a wetsuit model based on your needs and goals, you have to determine your size. You can consult the following guide or get the advice of an expert.
Generally speaking, the suit should fit very well, without being loose. This is to prevent water from coming in and creating the uncomfortable 'baggy effect' while swimming. A wetsuit that does not fit and adjust to your body well, whether too large or small, can produce chafing and unnecessary discomfort during your sessions in the ocean.
PRICE SHOULD NOT BE THE DETERMINING FACTOR
When it comes to wetsuits, a high or low price does not mean that a suit is better or worse. That is why it is important to note that a wetsuit should not be chosen for its price, but rather for everything mentioned above: its performance and your needs and goals as an open water swimmer. Just because it is the most expensive model does not mean it is the best choice for you.
We hope these five tips have been helpful to clear any doubts about choosing the right wetsuit for you.
If you want to know more, be sure to watch the video that our friends at GTN have prepared on the same subject.