Back
Lightning in the ocean
January 18, 2022
"Lightning in the ocean", a title given by the samoan community, Bruckner Chase shares his inspiration to launch the non-profit – Ocean Positive Foundation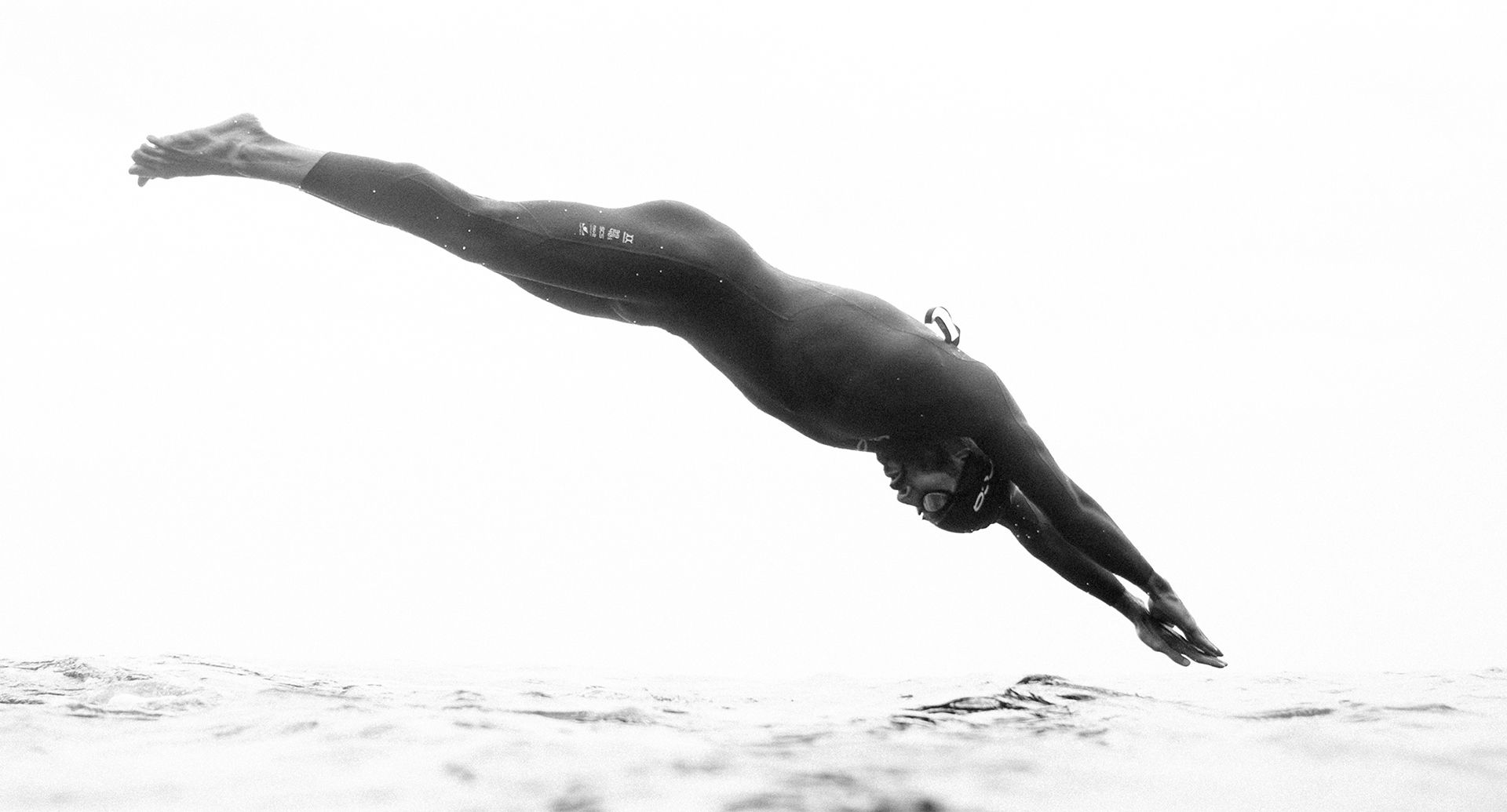 "Lightning in the ocean", a title given by the samoan community, Bruckner Chase shares his inspiration to launch the non-profit – Ocean Positive Foundation
As swimmers, we are intimately connected to the water. Every wave, current, reef, or wildlife encounter we experience with virtually every sense. Swimming across Monterey Bay for fourteen hours in 2010, I was immersed in daunting and diverse wildlife and water conditions through a journey towards a beach in Monterey to help launch the BLUE International Film Festival. Ten months later, swimming for five hours along with the remote islands of American Samoa from Aunu'u to Utulei, I was in an equally inspiring ocean environment surrounded by a community and culture whose connections to the land and waters spanned millennia. The Samoan community became family. American Samoa became a second home, and all our oceans became a calling. This personal immersion beyond the water and any finish line became the core vision for the Bruckner Chase Ocean Positive Foundation with the mission: To positively impact how we all feel, think and act towards our oceans and our communities.
In American Samoa, the goal was to share knowledge in ocean sports and safety to counteract a distressing number of drownings within the Samoan community. The broader vision was to bring together a powerful, 3,000-year-old cultural understanding of the ocean and islands with the modern disciplines and techniques of surf lifesaving sports to empower not only those living in American Samoa but those in coastal communities around the world to embrace their own capacity to protect and preserve the people and resources around them. Committing to and embracing the Samoan traditions of protecting the village, island, and ocean led to being bestowed the title of "Matai" or chief for the village of Aunu'u with the Samoan name Uila o le Sami / "Lightning in the Ocean." That title carried an obligation to speak for those in American Samoa and the thousands of years of tradition putting the protection of community and oceans first. Beyond those shores, we began to recognize what could be accomplished if we did not just focus on single experiences for others but rather ways to build initiatives that were sustainable, experiences that made community, and opportunities for everyone to access their wild waters. The vision became instilling in everyone:
• The Passion to Care
• The Strength to Act
• The Vision to Inspire
American Samoa showed that community-specific initiatives were needed to inform and positively impact the behavior of those living near or visiting any shore. The United States' NOAA National Weather Service agreed, and in 2017 the Wave Safe with Bruckner Chase video series project was born. The series has taken me all over the globe to provide tailored content and actions for coastal communities. Not everyone goes to the same coastline for their beach experience. The film series and supporting tools like the Wave Safe posters support that the coastlines of the Pacific Northwest or New Jersey or Gold Coast, or the English Channel are very different from each other. Aside from various hazards and dangers, our beaches are dynamic environments constantly changing with tides, weather, and waves. The protection for those in trouble may vary tremendously, from a lifeguard being seconds away to rescue agencies located hours away. For any shore, the Wave Safe initiatives focus on something we can all internally control: a philosophy, a mindset, and actions in an emergency.
• Respect the Ocean
• Stay Situational Aware
• Take Ten to Protect Yourself and Save Others
Like most individuals and organizations, Ocean Positive has been impacted by the adverse effects of COVID- 19. Still, at the same time, the pandemic has offered a unique opportunity for reflection on how to support our collective health, well-being, and quality of life. As the virus continues to have a firm hold across the world, people want to be outside and not surrounded by crowds; for many, isolated and unguarded beaches are becoming sought-after destinations. With new distractions on land for lifeguards charged with maintaining ocean vigilance, there is an urgent need for people to know how to think and respond to protect themselves and others. Ocean Positive is committed to sharing initiatives, knowledge, assets, and resources that create opportunities for anyone to experience time in the open water and be prepared when they find themselves or others in dangerous situations.
"What we do IN the ocean makes us an athlete, but what we do FOR the ocean and FOR our communities makes us Watermen and Waterwomen."
Epilogue - Last week, the Bruckner Chase Ocean Positive Foundation was selected by the World Open Water Swimming Association for its collective work in 2022 to support individuals and communities along all our favorite shores while protecting those waters for us all. For Ocean Positive, the mission statement provides a guiding principle for our actions. Recognizing the significance of what we are and what we can become inspires us to keep moving forward.
ABOUT BRUCKNER CHASE
Founder and CEO of BC Ocean Positive, and Professional Ocean Lifeguard Bruckner Chase is an internationally recognized ocean advocate and professional waterman whose athletic accomplishments and adventures include some of the most challenging environments and harshest conditions on land and by sea. His athletic pursuits and innovative, evidence-based initiatives span from American Samoa, to Poland, to the Jersey Shore and provide opportunities to empower, as well as positively impact individual and community behavior towards our shared aquatic environments.
He currently works with NOAA National Weather Service as their coastal safety, science and conservation advisor while also working on groundbreaking, inclusive surf lifesaving sports programs for para-athletes. His current project with NOAA, "Wave Safe with Bruckner Chase" is a multimedia campaign that teaches the philosophy, mindset and actions that can protect any person, on any shore. He loves working in Australia and American Samoa and is always eager to get back to these places he considers "second homes". Join Bruckner in protecting our oceans, and their inhabitants, and learn more at bcoceanpositive.org.