Back
The differences between triathlon, open water and swimrun wetsuits
August 24, 2021
Triathlon, open water swimming and swimrun have the ocean as their common denominator, but this does not mean that you should use the same wetsuit for all three disciplines.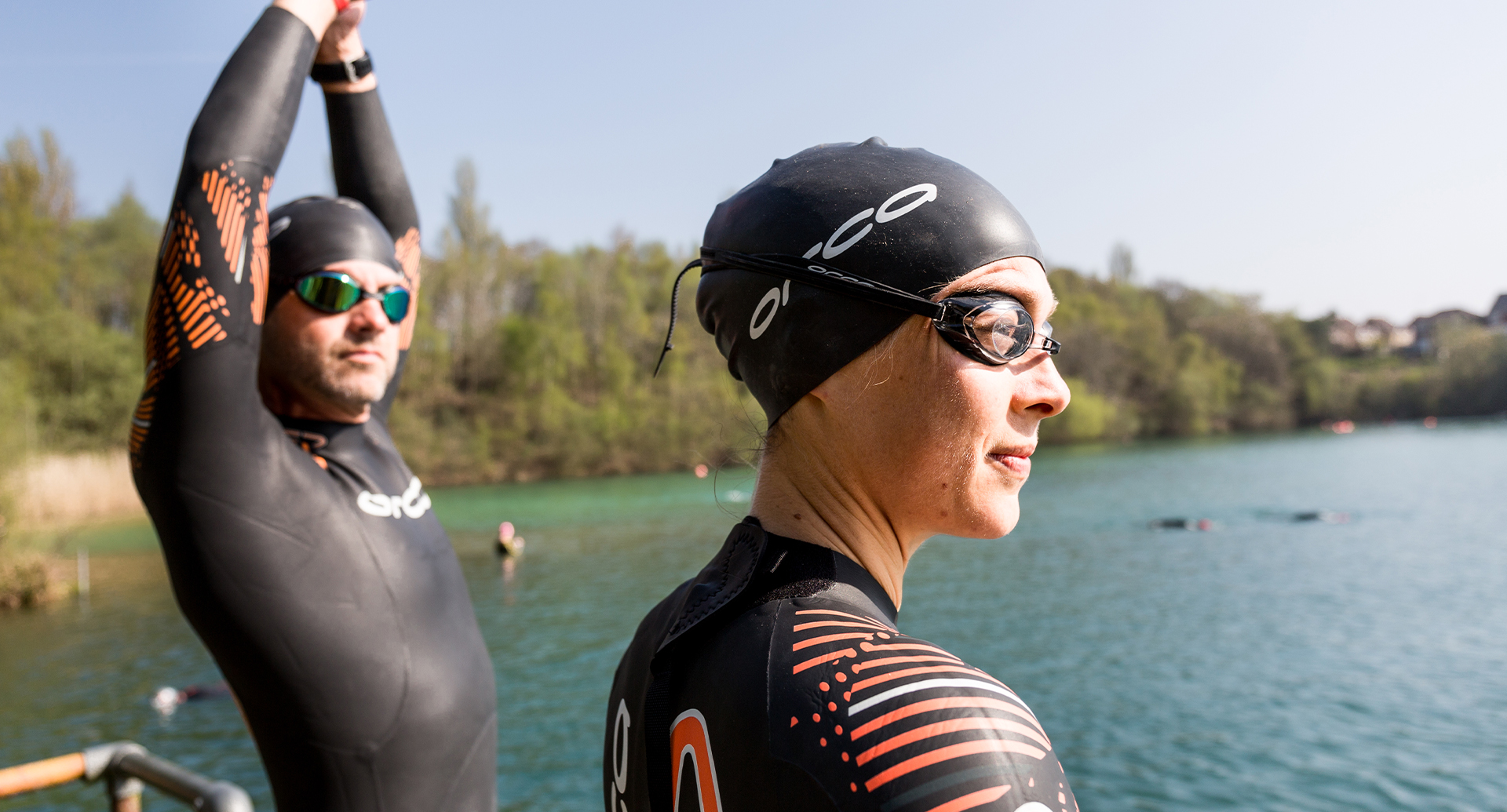 Triathlon, open water swimming and swimrun have the ocean as their common denominator, but this does not mean that you should use the same wetsuit for all three disciplines. First of all, keep in mind that triathlon wetsuits are performance oriented, while open water wetsuits are designed to help you swim comfortably and safely. On the other hand, swimrun wetsuits differ the most from the rest, with elastic, durable materials that adapt to the conditions of the sport.
Below, we will outline some characteristics of wetsuits for each discipline that will allow you to choose the best possible wetsuit so you can enjoy your adventures in the water to the fullest.
TRIATHLON, DESIGNED FOR MAXIMUM PERFORMANCE
Performance is a defining factor for triathlon wetsuits. These suits incorporate specific technologies designed for the most demanding triathletes, which mainly focus on flexibility, buoyancy and hydrodynamics:
• SCS Coating: Super Composite Skin (SCS) has become the standard for coating neoprene in order to reduce friction and increase speed in the water. At Orca, we use Nano SCS for even less friction, ensuring the fastest possible speed in the water. The dynamic friction coefficient of Nano SCS is 0.026 compared to 4.00 for conventional neoprene. Less friction = Faster speeds.
• Hydrolite Inner Lining: This lining with highly hydrophobic properties helps to minimize the time spent going from the water to the bicycle, which is one of the goals of any triathlete. Hydrolite technology makes it easier to remove the wetsuit, making transitions even faster.
• YKK8 and YKK Inverse Zippers: The use of these zippers allows for more elastic designs than can be used with conventional zippers, improving water resistance while swimming.
• 0.88 FREE: This technology has been developed with Yamamoto exclusively for Orca. This material is placed in the arm areas, providing necessary compression to the muscles and allowing for maximum flexibility when the elbow is bent during the swim stroke. Stretching this fabric requires 75% less force than conventional neoprene.
Not all triathlon wetsuits are the same, just as all triathletes are different. When it comes to choosing one over another, you should consider what your needs are, focusing on flexibility, buoyancy and hydrodynamics. Depending on how precise your technique is, you may choose one option over another.
OPEN WATER, DESIGNED FOR COMFORT AND SAFETY
Unlike triathlon wetsuits, open water wetsuits are designed to provide comfort to the swimmer. So, aside from flexibility and buoyancy, thermal insulation and safety are also considered in their designs. These are some of the technologies used in open water wetsuits:
• X Thermal Lining: This high-performance inner lining retains heat more efficiently than other conventional inner fabrics.
• Batwing: The "Batwing" construction prevents water from seeping through the zipper and neck areas, creating a layer of warm water and maintaining a comfortable temperature.
• Infinity Skin 2: This inner lining provides a feeling of absolute freedom. Designed as a highly elastic nylon that incorporates bamboo fibers, this technology is applied to the lining of Orca wetsuits to provide you with greater flexibility with each stroke. It maintains body heat longer and prevents bad odors and the presence of bacteria.
• Ultimate Seal Collar: This collar features a combination of laser-cut material and inverted Velcro. This reduces friction to prevent chafing, especially for those swimmers who spend several hours in the water.
• 39 Cell: For more flexibility in all phases of the swim stroke, Yamamoto 39 neoprene is used together with 2 mm Infinity skin high-end lining. This material has a high elasticity that allows it to be used in different areas of mid-range wetsuits. This material requires between 45% and 35% less force to stretch than conventional neoprene.
• High-Visibility Panels: For safety, some of the models have been designed with a high-visibility orange that will make you more visible to boats and other swimmers, and make you easier to locate at all times.
These are just a few examples of the technologies and specifications that can be found in open water wetsuits. Like triathlon wetsuits, each open water wetsuit will suit different needs depending on the swimmer: more or less buoyancy, thermal insulation, or elasticity, but there will always be a focus on comfort and safety.
SWIMRUN, MADE FOR ADVENTURE
Although they may look very different from triathlon and open water wetsuits, swimrun wetsuits are also designed to be as flexible and lightweight as possible, especially for the fastest swimrunners. The RS1 range is designed with Yamamoto 44 in the shoulder area, a super elastic material that provides maximum flexibility for the swim stroke. The lower body areas are also designed so that athletes can run with total freedom, as well as incorporating DuraSkin 2 technology that will resist wear, thanks to its durable fabric.
Another basic characteristic of swimrun wetsuits is their vest-like construction, with the zipper in front, which allows the wetsuit to be opened without it having to be removed during the race sections.
In the extremities, swimrun suits are usually short-sleeved (some with adjustable sleeves to suit your needs) and have short legs. In addition, inner elastic mesh pockets allow this wetsuit to be combined with an Orca Swimrun Pad accessory, which will provide added buoyancy.
Whatever your discipline is, it is important to determine what your needs are as an athlete in order to choose the best wetsuit for you.