Back
To face adversity. Open water swimming to build resilience
May 31, 2021
This month's blog is about how open water swimming helped one man rehabilitate from life-changing injury and trauma and the part cold water played in building wellbeing and resilience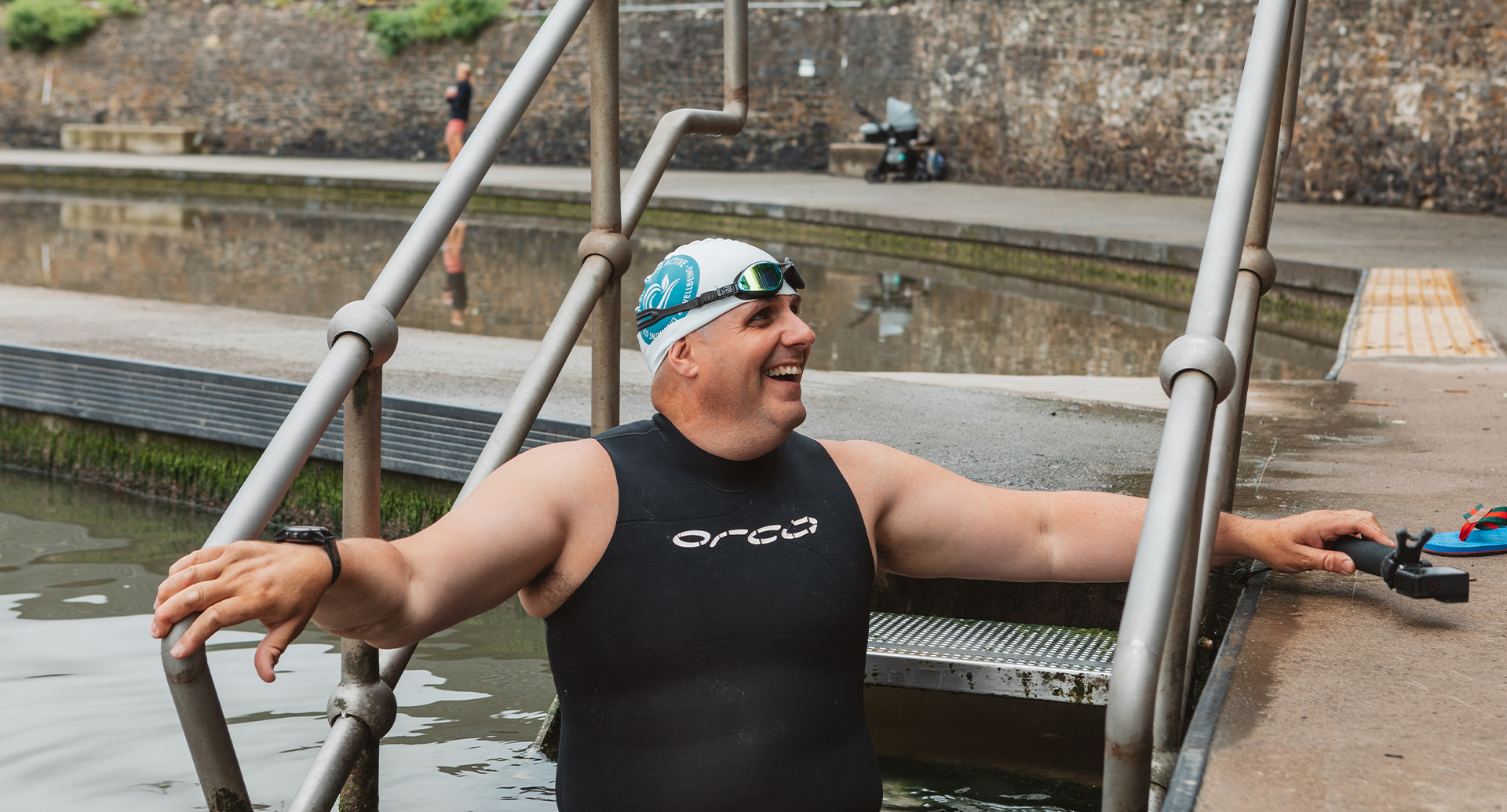 This month's blog is about how open water swimming helped one man rehabilitate from life-changing injury and trauma and the part cold water played in building wellbeing and resilience.
MAGGY BLAGROVE - Director and founder of Open Minds Active
Earlier this month, I had the pleasure of swimming with Simon Harmer, a former combat medic who served in the British Army. Whilst out on patrol during a tour of Afghanistan in 2009, Simon activated an Improvised Explosive Device which left him a double leg amputee. Swimming outdoors has been a crucial part of his recovery and uses swimming as a tool to maintain positive mental health and wellbeing. I've been fortunate enough to meet him for a swim a few times now. He has a refreshing take on outdoor swimming. Although technically Simon is disabled, he is not someone who is defined by labels or his injuries.
We spent a morning swimming at Vobster Quay, located half an hour south of Bath in the UK. The waters there are crystal clear and is set in the most beautiful natural surroundings of an old quarry. The staff there are incredibly welcoming and have done a brilliant job, when covid restrictions allowed, of keeping the venue open to swimmers and divers throughout the pandemic. Their head swim coach, Richard Smith, has a wealth of experience supporting swimmers with a range of physical needs; this inclusive attitude is part of what makes the venue exceptional.
A VALUABLE INSIGHT FOR GETTING INTO OUTDOOR SWIMMING
At the beginning of 2021, the UK experienced a chilly Spring with below average air temperatures. On the day of our swim in late April, the board at the lake displayed a refreshing 11 degrees, a good few degrees cooler than it should have been for that time of year. We began by filming footage of Simon entering and exiting the water and then set off for a swim around the lake and a general chat about what the sport means to him. I was keen to learn how it aided his rehabilitation and what advice he had for others in a similar situation looking to try open water swimming for the first time.
Simon is incredibly candid about his injuries and how they happened. One of the most inspiring things about him is his ability to be upfront, approachable, and honest about things he can do and things he struggles with as a swimmer. While we prepared for our swim, we chatted about how important it is for swimmers with a disability to have greater visibility. Open water venues, on social media or at open water events need an outdoor swimming champion. Simon is the poster boy and role model the sport needs to encourage more people to give it a try. He documents some of his swims on his youtube channel – Just Add Water. He talks about all things outdoor swimming, from how he's feeling on any given day to the location, the conditions and temperature. It's a valuable insight for anyone wanting to get into outdoor swimming, whether they have a disability or not. Part of his motivation to do this is to respond visually to questions people might have about any adaptions he may make during his swims when accessing a new venue, or how his body acclimatises to cold water.
PRACTICAL TIPS FOR OVERCOME SOME BARRIERS
As we made our way down the ramp into the water, we spoke about what barriers there might be for those with a disability wishing to try open water for the first time. Simon offered four valuable practical tips:
1. Find an outdoor venue that can help you plan your swim, especially your entry and exits. Most places are willing to help give you a hand, but it is helpful to provide them with some notice.
2. Go with someone who can support you getting in and out of the water that first time and do not swim alone. The great thing about the open water swimming community is that it's a friendly, inclusive and eclectic bunch of people. There is always someone around who can offer help, or up for a chat and some cake!
3. Take it steady and know your limits. Start with short distances and time in the water and slowly build up. Just enjoy being in nature and the fresh air.
4. Plan your kit. For wheelchair users, a wheelchair cover is a valuable bit of kit; it stops your chair from getting wet when the weather is terrible. Simon also uses it to transition from the water to where he gets changed after a swim. There is no need to spend a fortune on equipment. Simon swears by his changing towel, it is the one thing he wouldn't leave home without.
THE FEELING OF LIBERATION
As we started our gentle cruise around the lake, I commented on how effortless Simon looked in the water as he glided off towards the first buoy. We talked about how open water swimming makes him feel. He told me that the beauty of swimming for him is once in the water, he looks and feels like anyone else. Getting in the water can be tricky; once in, that feeling of liberation is both motivating and exhilarating. The process of documenting his swims through storytelling has played an essential part in his recovery. Much of Simon's pieces to camera are filmed during, and post swims. Even during our swim, we both observed the ease at which conversation flowed once in the water. The watery motion releases emotion and willingness to share, aiding reflection and providing much-needed processing time.
THE VITAL ROLE THAT NATURE PLAYS
Prior to his injuries, Simon was into triathlon, and although he swam, it was mainly in a pool as open water swimming was still a relatively new sport. During his rehabilitation, he discovered his love for open water swimming and began seeking out places to swim in the UK which provided him with a new focus and challenge. Since 2011, he has swum all over the UK, entering different iconic events like the Dart 10Km, the Brownsea Island Sea Swim and Lake Windermere. Aside from the physical benefits of training for long events, he discovered his mental wellbeing improved from regular cold water immersion and the visceral connection with nature and the elements he experienced. During our swim, we spent time just bobbing around, soaking up the scenery. We both remarked on what a vital role nature plays in our outdoor swimming adventures. It is easy to forget to stop and look around when focussed on training or in a rush. Those moments in nature, watching a kingfisher dart on the water's edge, or a cormorant majestically perched on a nearby rock are what helps us feel present. It is this connection to the natural world that makes the swims all the more enjoyable. The attraction for Simon, and indeed for many, is the headspace it affords.
NATURAL MINDFULNESS
We continued our swim, taking time to explore each corner and notice the subtle changes in light and water as we journeyed around the 750m loop. Although acclimatised and in wetsuits, we knew when it was time to make our way in. Recognising your own limits and when to get out is a crucial part of cold water swimming, always get out wanting more is a sensible rule of thumb. Once changed, we sat quietly shivering with our tea and cake, reflecting on how the swim and the cold water had made us feel. We felt gratitude for that time away from our mobile phones and the outside world. Simon spoke about how it invoked a natural mindfulness in him, forcing him to focus solely on mind and body and the task at hand - survival. This is part of the appeal, as no matter how you are feeling, the water is always there. Cold water channels our energies, helps us focus on our breath and remaining calm, building a natural resilience that stays with us long after our swim ends.
ABOUT SIMON HARMER
Simon has Alpine skied, tandem parachuted, cycled across America, completed a half ironman, swum Lake Windermere and become an influencer in the growing open water winter swimming scene. He's spoken to audiences across Europe with some of the biggest brands, including Tedx, Facebook, The Royal Ballet School, Northampton Saints Rugby Club to name but a few. All of this, despite experiencing life-changing injuries as a result of an operational incident that cut short his successful military career. Simon has not just survived but thrived, supporting his family and living life as a thank you to those who were there for him when he needed them the most. He refuses to be defined by his injures. He works as a freelancer and as a consultant and leads an active lifestyle.
Website
Youtube
@simonharmer
ABOUT MAGGY BLAGROVE
Maggy Blagrove is the Director and Founder of Open Minds Active a Bristol based social impact organisation whose mission is to promote positive mental and physical wellbeing for all through wild swimming and the great outdoors. Alongside a Masters in International Development, Maggy is a qualified teacher, open water swimming coach, beach lifeguard and netball coach. With over 20 years' experience of working in sport and communities she has developed various international and national projects. She has led programmes in the Middle East and Africa using sport to build resilience, and also in the UK using sport as a tool to engage disadvantaged youth and marginalised communities.
Website
@openmindsactive