Back
"When you get to know the feeling of winning, you want to experience it again and again"
May 3, 2021
If there is anyone with no time to spare who feels and lives triathlon 24/7, it is Ronnie Schildknecht of Switzerland, Orca's brand ambassador.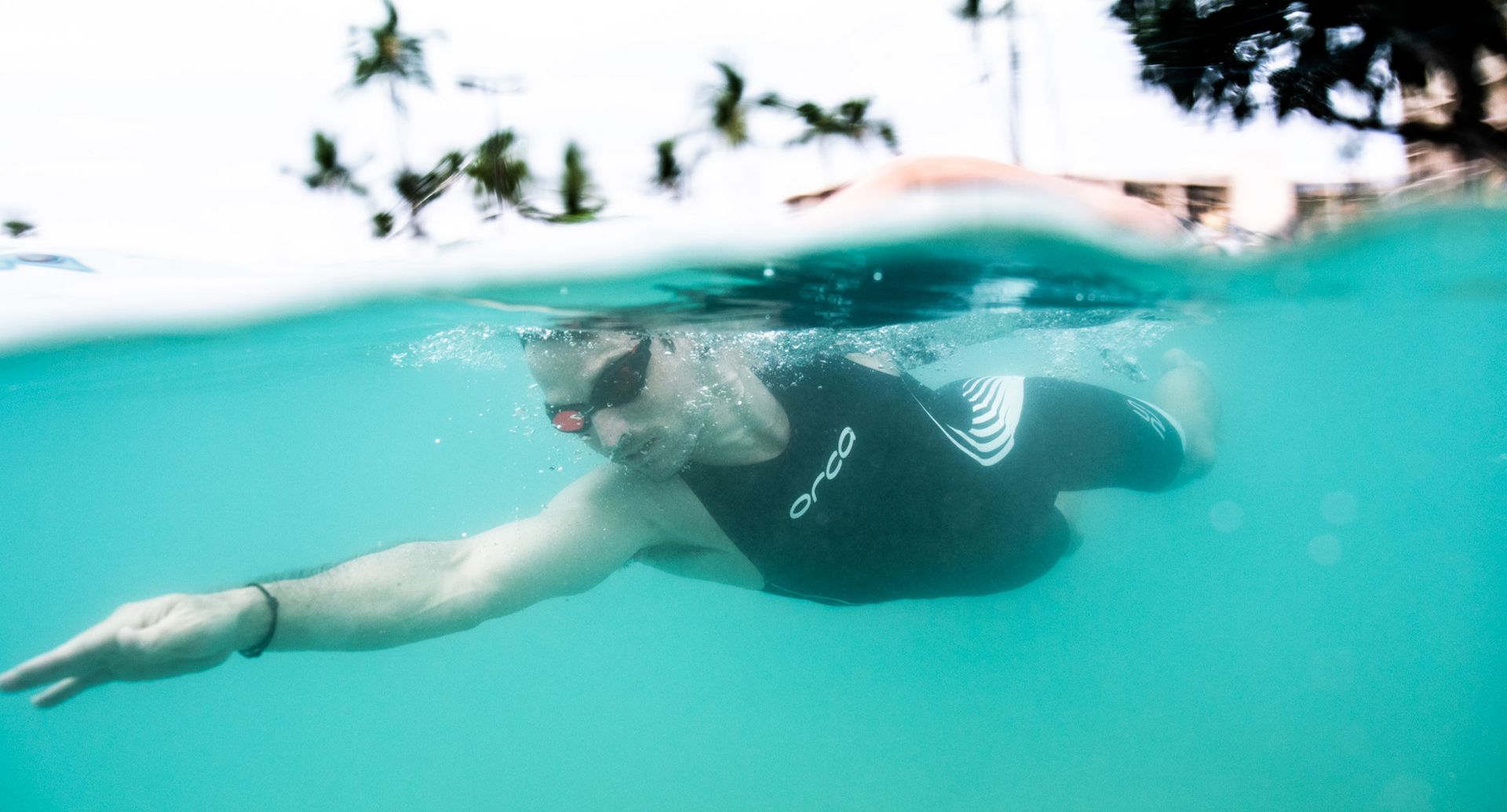 INTERVIEW WITH RONNIE SCHILDKNECHT - PRO TRIATHLETE AND ATHLETE MANAGER
If there is anyone with little time to spare, it is Orca brand ambassador, Ronnie Schildknecht of Switzerland. He lives and breathes triathlon 24/7. He is a professional triathlete with an extensive career, and also manager of renowned athletes such as Sebastian Kienle (German winner of the Ironman World Championship in 2014), Imogen Simmonds and the HEP team.
In a recent conversation, Ronnie tells us how he manages his time and spends his day to day. He pinpoints the moment when he decided to combine his career as a triathlete with athlete management, beginning with Sebastian Kienle. "When Sebi asked me to manage him I was still racing professionally, but already 38 years old. After some time thinking on it, I felt it was the right next step to build something sustainable after my career" he says.
Considering this, he had to adjust his daily routine to fit everything in. "I have to organize my day much more and be sure to have a structure. I need to be flexible and not stressed," says Ronnie. Training early morning, then breakfast with his family, working from home, and a cycling or Zwift session in the late afternoon is a typical day. This, followed by spending quality time with his wife Chrissy, his daughter Mila and the family dog, Mellow.
He also makes sure to leave room for swimming. He mentions that "Swimming has been a little different lately with the pandemic, fortunately I live nearby Lake Zurich which has helped greatly." The fact that the water is "a bit cold" is not a problem "with the new Orca open water line," he adds.
LIFE AS A MANAGER
Honor and positive pressure are the words that Ronnie uses to describe what advising Sebastian Kienle means to him. "I really enjoy the work with Sebi and his wife Tine, who plays a big part as well," he says. Our relationship is more than just training. "I don't see myself only as a manager. I am also a friend and feel valued as an adviser considering my professional race background," he says.
He also factors in the effect of the pandemic on the lives of his athletes, and his characteristic response has been to focus on maintaining a positive mentality. Even amidst a difficult situation, "there is no time to put your head in the sand. I took a lot of chances to approach this crisis differently and look for new ways to engage with sponsors and athletes," he says. When he noticed so many athletes fears and concerns, he shifted his emphasis toward mental well-being, as priority over commercial management. He approached his management with a positive attitude and forward momentum, using the extra time away from racing to develop each athlete's deficits. For Schildknecht, "the mental part plays a huge role" and he considers it essential to "highlight the positives, over complaining about what we cannot control. [Easier] said than done."
Adapting to change is another key factor that he emphasizes, stating "you have to stay flexible. This is a big challenge for an athlete who is used to working with a clear plan and timeline, however his athletes [Sebastian, Imogen and the HEP team] have been quite receptive, and able to adjust to the changes while keeping up their elite fitness"
PROFESSIONAL CAREER
A professional career such as Ronnie's, carries a lot of value, and his opinions on the sport remain relevant, especially through the evolution of triathlon, and particularly in recent years. "This sport has become even more competitive. You really cannot have a real weakness in any of the disciplines if you want to compete at the top level," he says.
The story of a pro triathlete thrives on memories, personal victories, and often close races. In Ronnie's case, he thinks back to his 4th place finish in the Ironman World Championship in Kona in 2008. "I missed the podium by 23 seconds, but I think I was the luckiest fourth place finisher Kona has ever seen," he says with satisfaction.
Athlete or manager? Faced with this dilemma, the Swiss values both professional facets. Thanks to his experience as a triathlete, he can provide advice on how to train, especially for those who do not have as much experience, in addition to managing sponsorships and establishing contacts. His most outstanding traits are his passion and commitment to the sport of triathlon: "I love the sport and its spirit. The feeling of competing against the best and to have three disciplines combined in one sport," he comments. Although he says he will not miss the wait time before a big competition "when I'm getting nervous and the only thing I can do is to wait."
His retirement as a professional athlete is already scheduled, as he tells us: "My plan is to participate at the Challenge Roth as [my] last race. I have no real agenda, other than to be well prepared and finish strong as a final stamp on an amazing professional career. I look forward to racing one more time, and then it feels like the right time to retire."
MOTIVATION AND A STRONG MINDSET
When asked about the secret to his perseverance within a race, Ronnie says "it's kind of crisis management. When feeling low, you need to focus on how to feel better. After every down comes an up; behind every rain cloud awaits the sun. So, when feeling bad and maybe suffering from cramps, try to relax and trust that better times are ahead, keeping a positive state of mind" he says.
Lovers of triathlon and sport in general may wonder how he stays motivated in races he has won up to nine times, such as the Ironman Championship in Switzerland. His answer is clear: "You never lose motivation, because when you get to know the feeling of winning, you want to experience it again and again. This in turn pushed me mentally, as I put a lot of pressure on myself because not winning the race felt like losing."
His advice is simply movement, for triathletes who may have lost motivation after the pandemic, which compliments the perspective many have gained through this experience, "to wake up, have fun training and be thankful to be able to do what you love: triathlon." In this sense, Ronnie says that throughout his years as a professional, his greatest lessons learned have been the importance of staying humble, positive and grateful.
THE JOY OF SWIMMING AND THE RELATIONSHIP WITH ORCA
That wonderful feeling of swimming in open water is something that Schildknecht emphasizes, despite not considering swimming his strongest discipline. "I will never forget my practice swims in Kona, before the World Championships. To be immersed in the Hawaiin ocean waters with dolphins and colorful sea life," he recalls. In fact, he mentions the island as his favorite place in the world for open water swimming.
For swimming, his favorite wetsuit is the Predator, for "its flexibility in the right places and the support where needed," says Ronnie. It is precisely these same reasons that he considers it the best wetsuit for Sebastian Kienle and Imogen Simmonds. Based on his extensive experience, his recommendation is to always consider fit, quality and technical aspects as important factors when choosing a wetsuit.
Finally, Schildknecht reaffirms his commitment to Orca, with which he works closely, ensuring that the brand is forward-facing, respectful of the environment and always pushing the limits in terms of innovation.