Back
Taking the plunge: open water and ice swimming – Q&A with wowsa board member, quinn fitzgerald
November 16, 2021
Quinn Fitzgerald is undoubtedly a renaissance man. Passionate about the sea, he is an avid open water swimmer, who has also competed in middle distance triathlons,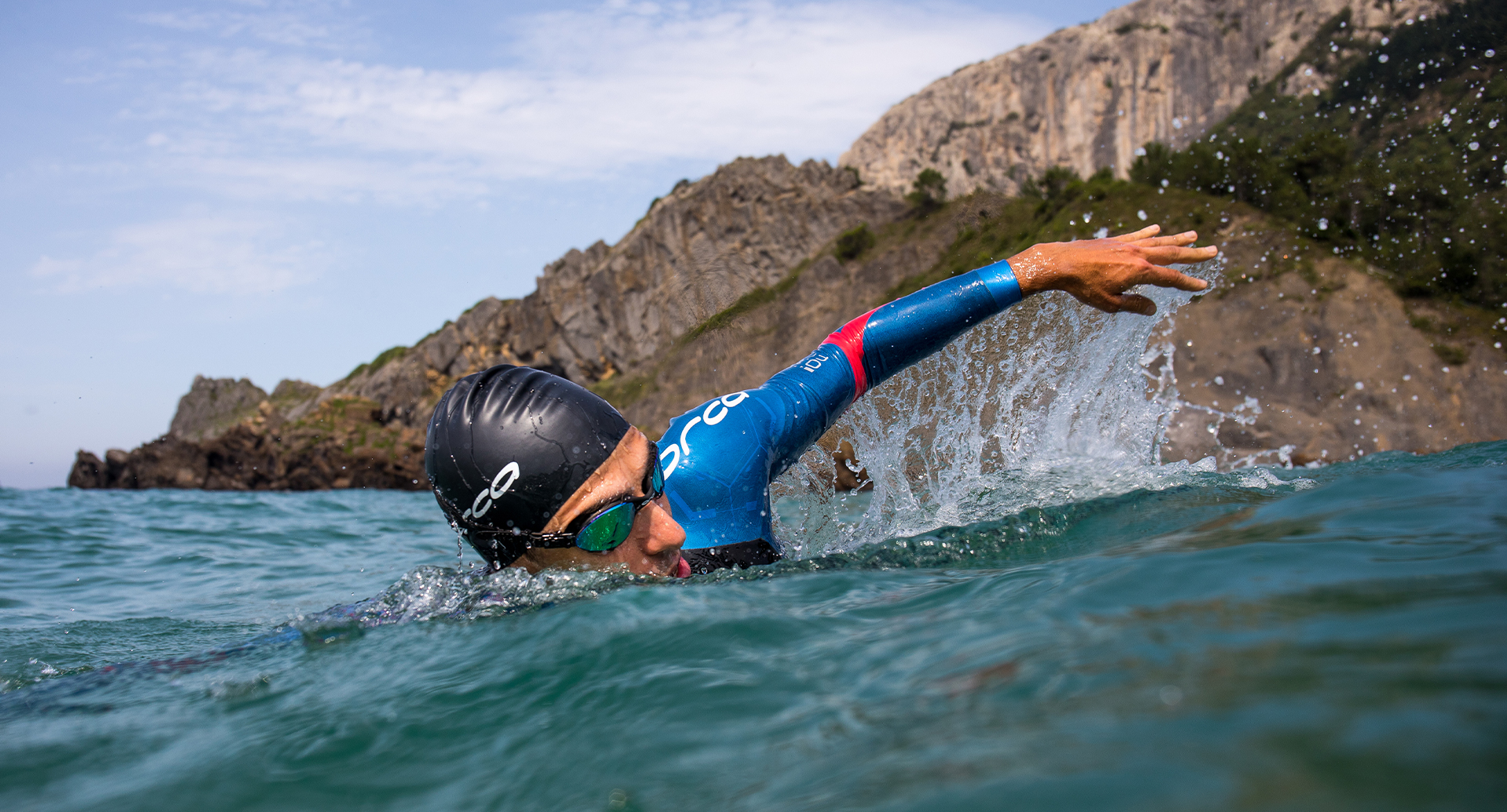 Quinn Fitzgerald is undoubtedly a renaissance man. Passionate about the sea, he is an avid open water swimmer, who has also competed in middle distance triathlons, worked as an executive in technology and outdoor industries, and is a world champion ice swimmer. We talk with him about his passion for swimming, the feelings he gets from it, how he found his way into ice swimming, and his next big challenge in the icy waters.
QUINN FITZGERALD - World Open Water Swimming Association (WOWSA) member
When did you discover your passion for swimming?
I started swimming young, then continued swimming through college at Yale, then masters at the New York Athletic Club, The Olympic Club, and The Dolphin Club. While I swam all those years for competition, health, and community, I was well into my 30s before developing a sincere passion for the sport.
In 2013 I hiked The Na Pali Coast of Kauai, the northernmost Island in Hawaii. I was hot and sweaty, and my feet had blisters. The whole time I kept thinking I'd rather be swimming. So the following year, I came back and organized a three-day swim and camp along the same beautiful coastline. We swam with dolphins, through sea caves, and floated in supplies to camp at night. It was an epic adventure. The Na Pali coast was the true birthplace of my passion.
What do you love about open water swimming?
Imagine you're a hamster, and your whole life, all you know for play is a hamster wheel. Then one day, you discover you can play anywhere. For 20 years, the pool was my hamster wheel until I discovered I could play in the most beautiful and remote oceans, lakes, rivers, and bays. Now every day is a new adventure.
What are some of your goals in the sport?
I spend a lot of time looking out at the Pacific Ocean from my home in Malibu, California. And every time I do, Catalina Island keeps looking back at me a little cockeyed like she's taunting me. So, I may have to swim the Catalina Channel just to shut her up.
How did you take the step of turning your hobby or passion into a job?
After participating in open water events worldwide in South Africa, Italy, Russia, and all over the US, I became aware of an international community of amazing people that is bigger and growing faster than anyone realizes. But more importantly, I saw an opportunity to have the most fulfilling job imaginable; to build and serve a community I love.
So, I found the two people doing the most for the sport: Steven Munatones, the Founder of WOWSA, who for four decades has selflessly promoted and helped codify the rules of open water swimming, and Antonio Arguelles, one of the most accomplished marathon swimmers on the planet, but also a savvy businessman, who helped pioneer the sport of triathlon in Mexico. The three of us came together to comprise the WOWSA Board, and we're working non-stop to educate, connect and inspire the next million swimmers around the world.
Tell us about WOWSA's role in cold water swimming.
WOWSA supports open water swimming in all its forms, whether it's the Olympic 10k Marathon Swim, channel swimming, or any of the 35,000 mass participation events around the world. However, the most fascinating and fastest-growing niche in our sport is cold water swimming. An activity that can include taking a winter wellness dip, practicing breaststroke in a knit cap, swimming miles amidst glaciers in Iceland to draw attention to climate change like our friend Lewis Pugh, or competing with the fastest ice swimmers in the world in a pool carved out of a frozen lake.
We just relaunched Swim of the Week to celebrate every type of swimmer, swimming in every kind of water, everywhere in the world.
We celebrate anyone who ventures beyond the shore, and we encourage people to step outside their comfort zone and try a new type of open water swimming.
Do you swim/train in cold water?
The definition of cold is highly relative. I live in California and swim up and down the California coast without a wetsuit. The water temperature mostly stays between 50° – 70°F, which is very moderate, especially in ice swimming. If I find myself in Tahoe in the winter or on the east coast, I'll typically do a plunge, but I don't have regular access to water under 50°F. If I accidentally find myself entered in an ice swimming competition in Russia as I did in 2019, I do some breathing exercises and pretend I'm somewhere warm. But I don't recommend that approach.
Wait, you accidentally entered an Ice Swimming event in Russia?
Yep! I went to Murmansk, Russia, inside the Arctic Circle, in March 2019 to cover the 3rd Annual World Championships for the International Ice Swimming Association. I got press credentials and arrived on the first day ready to do some interviews and try to understand the sport's exploding popularity. I didn't realize that my friend Ram Barkai, The Founder of IISA, had entered me in two events without my knowledge.
Did you end up swimming? How cold was the water? How did you do?
I spent the next 24 hours deciding whether I was going to swim. I came to realize I didn't have a choice. If I was going to experience the event, I needed to climb down into the frozen water and participate. The water was 0.2°C for my race. They had a person whose job was to use a net on a pole to scrape the ice from forming on top of the water to put that in perspective. I thought there was a good chance I would get out after one lap or go unconscious.
I competed in the 200 Free first, which was a disaster. My chest constricted immediately, I couldn't exhale, and the muscle fatigue was like nothing I'd ever experienced, but I finished.
The next day, I was prepared mentally for the 50 Free. I did some intense breathing to oxygenate my blood until I felt loopy. They lined us up in the ready room, and I realized I was the only non-Russian in my heat. I tried to crack a joke by saying, "This is the real cold war, no?" It was not well received.
I won my heat and waited in the hot tub for the remaining heats to finish to realize I had won both my age group and the overall world championships. To date, that was my first and only ice swimming competition.
So, you are the Ice Swimming World Champion in the 50 Free? Are you going back?
Ha! They didn't have a World Championships this year due to the pandemic, so I guess so. But they did recently announce the 4th Annual World Championships in Poland in February 2022. I haven't decided whether I'll go, but if I do, this time it will be because I enter myself.
Do you think ice swimming is growing and why? What has been the popularity?
No question, it's growing! It has everything you want in a sport; it is a bit extreme - but can be done safely, it is visually stunning, it has deep roots as a wellness tradition in many parts of the world, it is low impact so people of all ages can participate, and it provides a fantastic community of swimmers.
What are the benefits of cold-water swimming?
At WOWSA this winter, we did an ICE Series on our YouTube channel and interviewed multiple Doctors and ice swimming experts, who broke down the physiological response. The big takeaway is that the human body is way more resilient than anyone previously realized, and the benefits of cold exposure are very real. For me, it's simple; there's a pleasant tingling in my bones that lasts all day and makes me feel super alive. And then I sleep like a baby.
How would you encourage swimmers who are considering taking the plunge into cold water swimming now in winter?
Go for it! It's a thrill and a phenomenal community. Find people who are more experienced than you, join them, ask many questions, gradually build up your time in the water, be safe and have fun. Also, we haven't announced it, but we've started working on an online course for cold water swimmers. It will be available in our online learning center, where swimmers can find resources to take the plunge safely.
How have you experienced this pandemic season at WOWSA, and have you noticed a growth in the number of people taking up open water swimming?
Pool closures have been a boon for our sport. People who have never identified as open water swimmers before now discover their nearest body of water and enthusiastically take the plunge. Wetsuit sales have been through the roof. The number of swimmers, events, and coaches in the WOWSA directory has skyrocketed of coaches taking our open water certification course has tripled. It's an exciting time to be an open water swimmer.
Why do you think we need Open Water events? What do you like most about them?
While it's helpful motivation to have a specific distance and date to train for, the events are really about camaraderie before and after the swim. It's always special when the open water community comes together to celebrate their sport and commune with nature.
How do you prepare for them? Maybe share some about your training.
I follow Steven Munatones' Pyramid of Success – First, I make sure I'm in decent all-around shape, not just swimming shape. Then I gradually build up my swim endurance by doing 5km more each week until I max out at about 40k. Then regardless of the distance, I'm training for, I always do some speed work. Even in an open water distance race, it is essential to have another gear to pass someone or get ahead of an unhelpful current.
Do you have any favorite spots from all the places you swim globally?
For me, two places come to mind; First is Aquatic Park in San Francisco, which is the spiritual home of our sport. People come from all over the world to train there for channel swims. And there is nothing like chatting in the sauna at the Dolphin Club after a long bay swim. The second would have to be Point Dume in Malibu in Westward Beach near Zuma. I've recently moved to Malibu, and I'm on a mission to swim all 27 miles of the Malibu coastline in stages. My favorite is around Point Dume, a Marine Protected Area with a dramatic high cliff point that marks the north end of Santa Monica Bay. It has magically clear waters and incredible wildlife.
What would you highlight about Orca's collaboration with WOWSA?
While many triathlete brands make excellent products, Orca has always struck me as a brand invested explicitly in the open water swimming. There's a different culture and ethos to the open water community. I think it stems from a spiritual connection to the water. ORCA has done a great job of capturing that culture in its branding and innovative and thoughtful product design.
ABOUT WOWSA
The World Open Water Swimming Association (WOWSA) is an international association dedicated to the organization, promotion, and recognition of open water swimmers, events, records, trends, publications, films, podcasts, and achievements in the world of marathon swimming, triathlon, competitive races of all distances, especially the Olympic 10k Marathon Swim, extreme swimming (including ice swimming), coaching, and officiating. Also, piloting events (including world top 100), swim community, coaches, associations, Ocean's Seven, and Triple Crown.
ABOUT QUINN FITZGERALD
Quinn is a community builder and entrepreneur at the intersection of technology and sports. He has held executive positions at venture backed technology and sports companies. He currently lives in Malibu, California with his fiancé. Quinn is an avid open water swimmer, ice swimming world champion and one time 70.3 Clydesdale triathlete.
Quinn's profile