Back
How to use orca Emerid system
February 18, 2020
We know that caution is important in a risk sport, so we want to accompany you in your journey providing you with security.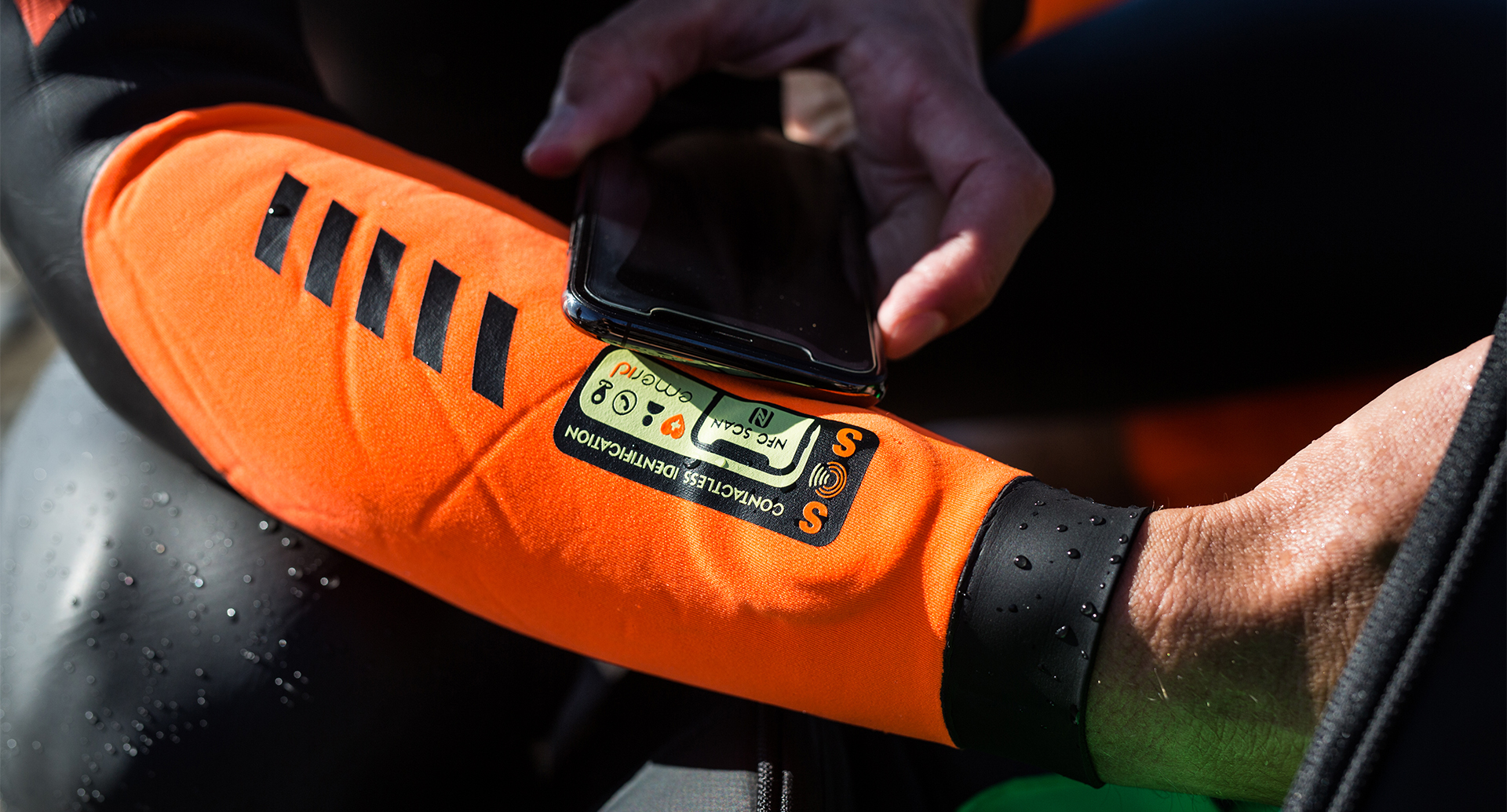 1. WHAT IS EMERID
Emerid is an universal personal identification system via NFC/Contactless, which instantly provides vital information (personal, medical, contact and location among others) of the athlete in case of an accident or emergency.
- Circular PVC device 29mm.
- NFC NXP chip compatible with smartphones.
- Resistant to extreme conditions: water, temperature, dirt...
- Instant communication.
- Reading security: <3cm.
2. WHAT DOES EMERID SYSTEM PROVIDE
Emerid System provides the most useful information for quick and personalized healthcare in emergency situations.
3. HOW EMERID SYSTEM WORKS
Place a Smartphone with NFC activated and internet network on the Emerid logo and the user information will be displayed on screen as if by magic.
*For IOS it is necessary to download a generic and free app "NFC Actions" in the App Store (iPhone 7, 8 and X)
**The new iPhones XS, XS Max, XR, 11 & 11 Pro support Emerid without needing any app.
4. EMERID ACTIVATION

The Orca Emerid wetsuit you have purchased is based on NFC technology, so it will be necessary for your smartphone to have this connectivity. Don't worry because on our website we have an updated list of all models that have this technology, both for Android and for IOS.
You can activate the NFC from the top notification bar from your mobile or in Settings > Wireless connections > More.
5. COMPLETE YOUR PROFILE

With the NFC activated and Internet network, place your mobile on your Orca Emerid device for your reading. You will instantly access to the Orca Emerid platform.
You can see a demo user by pressing on the button or go directly to create your account. If you have Facebook and / or Google accounts, you can link them to make this step faster. If you prefer, you can create an account of Emerid (email + password)*.
*Try to enter a password of at least 8 characters with capital letters, numbers and some sign.
Fill in the different fields with your data and click on the green arrow to move on to the next step. If the user is minor, he will have to fill also this data, for his and his family/guardians.
Keep filling in the different fields to complete the profile.
Insert the code that you will receive via SMS on your smartphone. It's for us to know that you're real.
You have already created your Orca Emerid user. The wetsuit offers the "Emerid Training Timer" option. We have created this option for you to train more safer. When you activate it and do not stop it manually, your emergency contact will be notified by mail with the last location where you have activated the training timer.
Start filling in your medical information to complete your profile.
In case of an accident or mishap, something we don't want to happens to you, fill in the fields of contact so they can contact them. (You can add up to a maximum 3 contacts)
Give a name to your Orca Emerid wetsuit to identify it more easily.
Activate notifications in case someone which is not the user read your device, receive an emergency email with the exact location of where it was read your Orca Emerid wetsuit, as well as the data of the smartphone that read it.
Upload a photo or take one in which you are recognized.
6. ACCESS TO YOUR PROFILE
Place your mobile on the Orca Emerid device and you will instantly see your profile. You can also access from any browser (computer, tablet or mobile) through the following URL: orca.emerid.com and entering your email and password.
Clicking on the 3 lines from the top left, you login with your email and password to make the changes that you consider in your profile.
7. TRAINING TIMER
Because we want you to carry on training in a more safer way, we have created an emergency notification tool through a training timer. When you activate it and do not stop it manually, your emergency contact will be notified via mail to the last location where you have activated the training timer.
8. ORCA EMERID SERVICE
We guarantee the Orca Emerid System service for 10 years. If after this period, the device does not work correctly or unusable, we advise you to purchase a new one that guarantees better your safety in case of an accident or emergency. If you need help or technical support, contact us at support@emerid.com.